We're Getting Mutants in the MCU - The Loop
Play Sound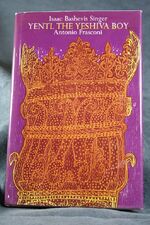 "Yentl the Yeshiva Boy" is a short story by the Polish-born American writer Isaac Bashevis Singer. It concerns a young woman who pretends to be a man in order to escape marriage and pursue religious studies. The story was originally published in Yiddish in 1962. Singer's own English translation was first published in 1983. A Broadway stage adaptation premiered in 1975 and a film adaptation, directed by and starring Barbra Streisand, followed eight years later.
Plot
The story opens in a small Jewish village in Poland in the early twentieth century. Yentl, the daughter of a rabbi, enjoys studying the Torah and other holy texts. She has no desire to get married and become a housewife. After her father dies, Yentl cuts her hair short, dresses in her father's clothes, adopts the male name Anshel and leaves to study in the yeshiva in Bechev.
At the yeshiva, Yentl befriends and falls in love with a student named Avgidor. Yentl discovers that Avgidor is not married because his love, Hadass, rejected him. Yentl boards at the home of Hadass and her family. She learns that Avgidor's brother took his own life and that is the reason why Hadass declined to marry him.
Yentl decides to marry Hadass herself, as an act of revenge against the wrong done to Avgidor and to bring herself closer to Avgidor by association. She is able to keep up the pretence of being a man for several months, despite the stresses and strains that she feels through having to deceive so many people. Meanwhile, Avgidor marries a materialistic shopkeeper named Peshe who was abandonned by her previous husband.
The story ends abruptly with many issues seemingly unresolved. The only person to learn that Anshel is really a woman named Yentl is Avgidor, although Yentl does not declare her love for him.
Adaptations
Isaac Bashevis Singer co-wrote a stage adaptation of Yentl the Yeshiva Boy with Leah Napolin. The play opened at the Eugene O'Neill Theater on Broadway on October 23, 1975 and ran for two hundred and thirty three performances.
The film adaptation, Yentl was released in 1983. It was directed by and starred Barbra Streisand, who also co-wrote the screenplay with Jack Rosenthal. The film differs significantly from Singer's original story and the theatrical adaptation. Yentl reveals her true feelings for Avgidor, abandons her male identity and returns to life as a woman. At the end of the film, she leaves Poland and sets sail for the United States of America, in search of greater freedom.
External links