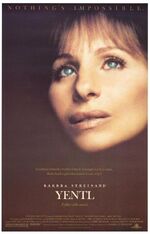 Yentl is a 1983 British-American movie directed by and starring Barbara Streissand as the title character. Streissand also co-wrote the screenplay with Jack Rosenthal. The movie is an adaptation of the short story "Yentl the Yeshiva Boy" originally written in Yiddish by Isaac Bashevis Singer.
Plot
Yentl is the daughter of a rabbi who grows up in an Ashkenazi Jewish community in 19th century Poland. Her father has secretly educated her in the Torah, although he was prohibited from educating the women of his community.
When her father suddenly dies, Yentl assumes the identity of her deceased brother Anshel and goes to the city to study in a yeshiva. There she meets and befriends a fellow student named Avgidor. Avgidor reveals that he was engaged to a young woman named Haddas, however, the wedding was called off because Haddas' family discovered that Avgidor's brother committed suicide.
Yentl finds herself becoming a substitute bridegroom for Haddas instead. Although Haddas finds herself becoming attracted to "Anshel", Yentl does not have to worry about consummating the marriage because Haddas is still in love with Avgidor.
Yentl reveals to Avgidor that she is really a woman and he briefly falls in love with her. However, the movie ends with Haddas and Avgidor being reunited and Yentl leaving Poland for the Unites States, where she will be free to pursue religious studies as herself, without having to pretend to be a man.
Differences from Singer's short story
Although the main plot of the movie adaptation follows Isaac Bashevis Singer's short story closely, there are some significant differences. In the short story, Yentl decides to marry Haddas in an attempt to feel closer to Avgidor and to take revenge on Haddas for her cruel treatment of the man she loves. Yentl reveals to Avgidor, who is already married to someone else, that she is really a woman but does not reveal her true feelings for him. Unlike in the movie, Yentl does not leave Poland or return to her true female identity and nobody apart from Avgidor learns her secret. The story ends abruptly with many issues appearing to be unresolved.
External links