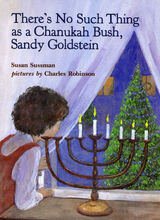 There's No Such Thing as a Chanukah Bush, Sandy Goldstein (ISBN 0-8075-7862-2) is a 1983 American children's book of nine chapters, written by Susan Sussman and illustrated by Charles Robinson. It was adapted into an Emmy Award-winning television special in 1994. The story is about the problems that Jewish children who live in a society where most people come from a Christian background often face in December. It also looks at the tensions that can exist between Jewish children whose families incorporate some Christmas traditions into their Hanukkah celebrations and those whose families do not.
Summary
The main character in the story is a young Jewish girl named Robin. She is unhappy that, unlike her neighbors, her family does not have a Christmas tree. She is confused because her friend Sandy Goldstein, who is also Jewish, has a Christmas tree at her house, although she calls it a Hanukkah bush. Robin's mother tries to explain to her that different people approach being Jewish in different ways. Unlike Sandy Goldstein's parents, Robin's mother does not find it acceptable to have a tree in her house in December.
Robin's wise old grandfather educates her by taking her to a community Christmas party that he helped to organize. The message that he wants to convey to her is that Jews can share other people's celebrations but they should not try to emulate them.
Robin concludes the story with the thought that maybe Sandy Goldstein needs a Hanukkah bush because she does not have friends who are willing to share their celebrations with her.
See also
External links