Jurassic World: Dominion Dominates Fandom Wikis - The Loop
Play Sound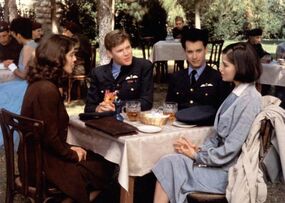 Every Time We Say Goodbye is a 1986 Israeli-American movie, directed by the Egyptian-born Israeli director Moshe Mizrahi. It stars Tom Hanks as David Bradley and the Spanish actress Cristina Marsillach as Sarah Perrara. The action takes place in Jerusalem in 1943, prior to the founding of the State of Israel. The plot concerns the relationship between the American gentile David and the young Sephardi Jewish woman Sarah, a relationship of which her family strongly disapproves.
The movie is notable for being partly in the Ladino language, being one of the few movies ever made with any dialog in that language. It opens with dictionary definitions of the words "Sephardi" and "Ladino". In the film, however, Sarah calls the language that she speaks Spanish. She says that her family speak it because they come from Spain, even though they left the country four hundred years earlier.
Every Time We Say Goodbye was filmed on location in Israel, primarily in Jerusalem.
Plot
David Bradley is an American pilot who, at the beginning of World War II before the United States entered the conflict, volunteered to join Britain's Royal Air Force. Although, at the start of the movie, the US has entered the war, David chooses to remain in the RAF.
Having been shot down in North Africa, David has been stationed in Jerusalem, then part of the British Mandate for Palestine. During his time there, his squadron leader introduces him to his Sephardi Jewish fiancée and her friend Sarah Perrara. Sarah and David soon become firm friends and he is invited to her family home for dinner. David learns that, although they admire British culture, Sarah's family support the creation of a new homeland for Jews, independent from Britain. At dinner, it is revealed that David's father is a Protestant clergyman, which surprises Sarah's father who thought that all Christian priests were forbidden from marrying.
When it becomes clear that David and Sarah intend to be more than just friends, Sarah's family, who had already begun making marriage plans for her, forbid her from seeing him anymore. However, in the small community in which Sarah and David live, it is difficult to avoid seeing each other. Sarah's family eventually lock her in the house.
Finally, although she disapproves of the relationship, Sarah's mother decides not to try to put a stop to it anymore. Sarah herself comes to question the wisdom of continuing in a relationship with David, due to their religious and cultural differences, but eventually decides that the two of them can overcome those problems and stays with him.
External links