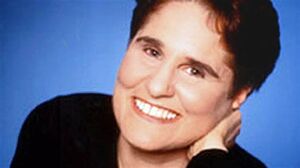 Debbie Friedman (Deborah Lynn Friedman; February 23, 1951 - January 9, 2011) was a Jewish musician who created many arrangements for prayers. She sang traditional songs, prayers and original music. Her songs and tunes are used in many congregations' services, by youth groups and at Jewish summer camps. For instance, her version of Mi Shebeirach is often sung as the prayer for the healing of the sick and was used in an episode of Strong Medicine on the Lifetime channel [1].
A movie documenting her life and struggle, A Journey of Spirit, was recently made and has won numerous awards.
Friedman started a "blob" on her site in March 2009 [2].
On January 9, 2011, Debbie Friedman passed away after a long illness. Her passing marked the end of an era when Progressive Jewish music moved from choirs and organs to soulful congregational singing.
Discography
Partial, see discography for the list on her Web site.
Songs
External links
Tributes, obituaries
Note: This article was copied over to the Jewish Music wikia in July, 2009, but it has remained relatively unedited there. (The only update was a note of her death by an anonymous contributor.) It is still a favorite page here on the Judaisim wikia, so it is being copied back. Both articles can develop independently with different emphases. See Debbie Friedman on the Jewish Music wikia.